We brought Nathaniel for a trial class at a pre-school, hoping to familiarise him with the place and people before he starts school in June.
He wouldn't let us out of his sight. 
Hahaha, which makes me wonder if we would bear to leave him to the teachers come June.  Never thought it would be hard to harden our hearts and let the teachers take control.  In any case, it is something that has to be done, and it will be done… so be brave my little baby (and mummy)!
My wife tells me that she was the brave one last time and even waved her mum goodbye when she attended school for the first time.  I guess its me that was the "not so brave" one. I vaguely remembered crying and dreading school…
The teachers encouraged us by saying that it is extremely normal that toddlers cry initially and takes some time to adapt.  The teacher then went on to say that there are cases that if the toddler cries non-stop for too long, they will call the parents..  *GULP*  Baby, don't do that to us ok?
There is just something very cute about seeing toddlers sitting at a table together… not socialising, just minding their own business.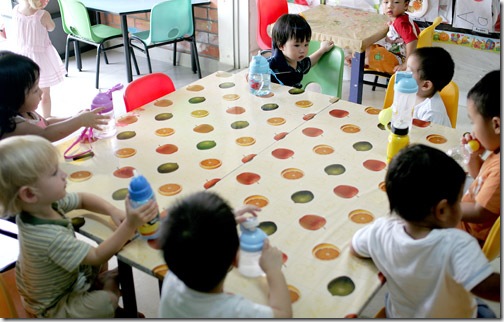 "YUM SENG!"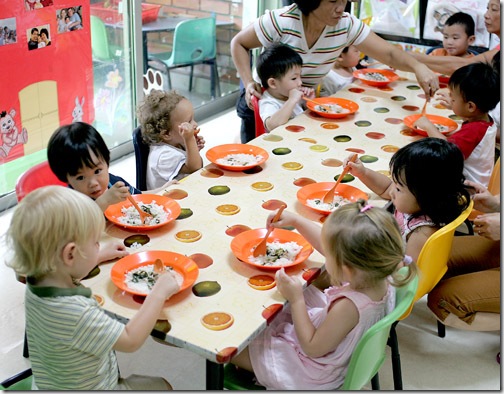 " what do you think of the lunch?"
All the students were feeding themselves, and Nathaniel tried to do likewise, albeit not as proficient as the rest.  Well Done Nathaniel!
Story telling is Nathaniel's favourite, but only if the story teller is mummy or daddy.  He wanted to steal some of the teacher's books back to mummy!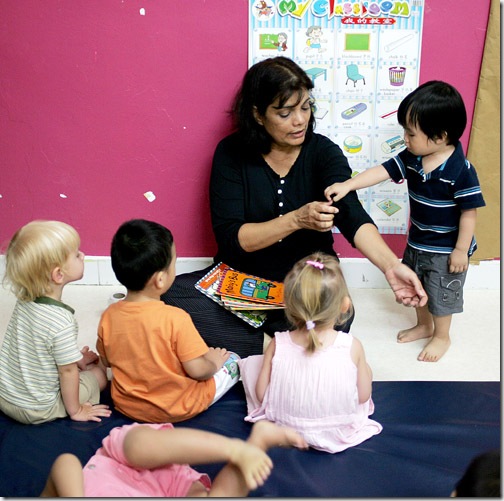 "give me that book, I want my mummy to read it to me"
And when all the students were dancing to the music and tunnelling through a play tunnel, Nathaniel would not participate, but chose rather to observe.  He nodded his head to the music occasionally (if the song was upbeat enough for him).    It was only when the half day trial ended for Nathaniel and the rest of the toddlers went for their nap, he sprung into life… Nathaniel jumped at the opportunity of tunnelling and playing with the toys undisturbed. Haha, to think that we thought he was afraid of the tunnel. 
Lord, we pray you give the child confidence.  Help him understand that mummy and daddy will always be there with him. And more importantly, that You will always be there for him. Amen!