Have you seen the latest army advertisements? There is one that looks like a trailer of a war movie ( a little like Black Hawk Down with its washed colours). It oozes patriotism as much as it oozes testosterone and I must admit that I am very impressed by the quality and scale of the advertisement.
"hmm..you mean I am part of this impressive force?"
I have just returned from my 3 weeks long ICT where I traded home comfort for a camouflaged discomfort, and whilst I am thankful that I do not have to rough it out in the wilderness, it is still a challenge to leave my life for 3 weeks to fulfil my obligations as a Singaporean. It is amazing how the army can make you appreciate simple things in life we often take for granted.
And so Yes, the blogging daddy is back in action. After 3 weeks of no action, we wasted no time in bringing Nathaniel out this weekend for some gym fun at this place called Fidgets. I was visibly tired from my sleepless nights but it was like making up for lost time.. haha.
Fidgets was loads of fun for us as we can witness Nathaniel demonstrating his motor skills without breaking out in cold sweat or heart attacks. It had a nice play area for young babies and an even more elaborate play area for the older children (even I wanted to go play!). Parents could sit at the cafe and have a cuppa while the young ones go do their thing.
We went home from Fidgets and as expected, a totally spent Nathaniel konked out on the way home (almost immediately after we put him in the car seat). But the day has not ended for him as we rushed him out in the evening for another baby gathering to celebrate a wonderful first birthdays for 4 babies who were born in November 2007 (yes, that includes Nathaniel).
Watching Nathaniel's reactions when surrounded by other babies is quite interesting. He can be very friendly one moment, and feeling insecure the next, smiling one moment and crying the next.. We have noticed that Nathaniel tends to be a little shy with strangers and other babies, and as a result, we will definitely be bringing Nathaniel out a little more on baby outings to encourage him to socialise. I certainly hope he takes on mummy's talkative and outgoing character as opposed to my slightly more introverted nature. Can't imagine when its time for him to attend school!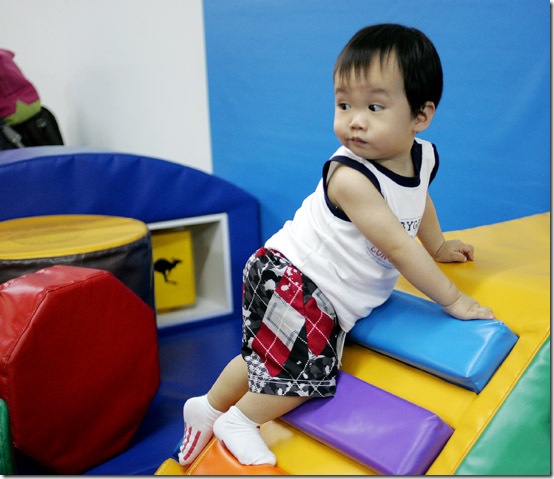 Hmm, how come no one is stopping me?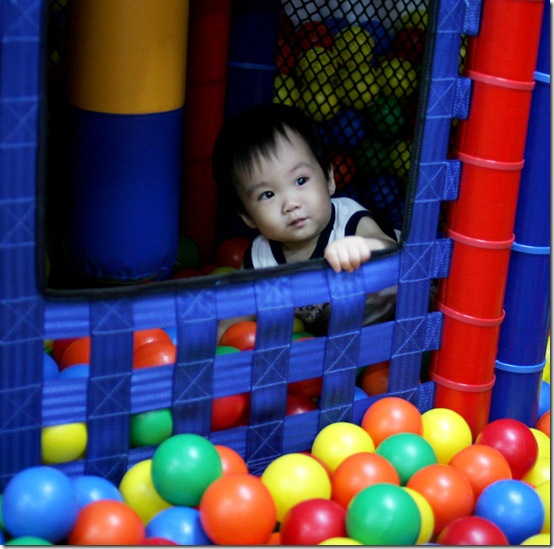 Papa, I want more balls at home too!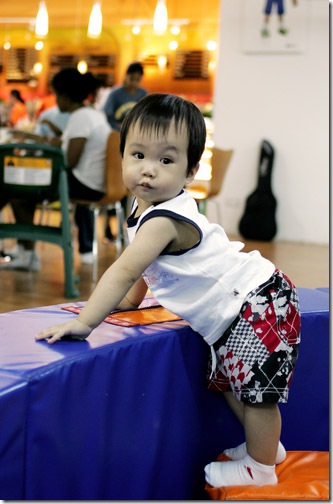 He actually learnt to stack cushions so he could climb!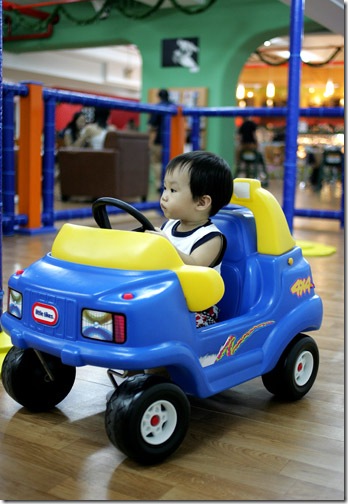 Flinstone car (must use legs).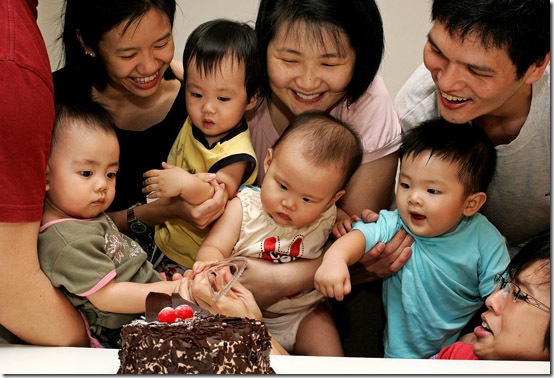 Babies from left: Ardelle, Nathaniel, Collette and Ean Shaw.